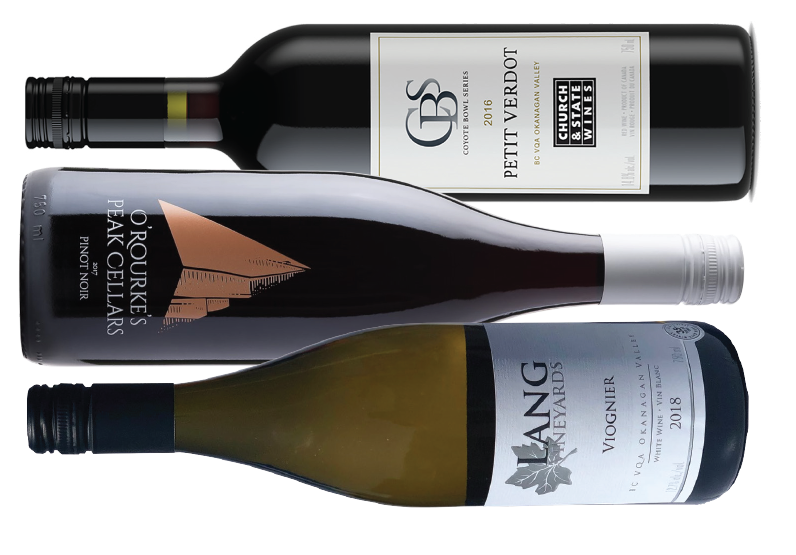 50th Parallel Estate Winery 2016 Unparalleled Pinot Noir $50
This upper tier Pinot is an excellent example of the Okanagan's ability to produce first class wines that can compete on the world stage in this competitive category. The wine is both savoury and fruity with a solid backbone of tannin needed for extended aging. Dried cherries raspberries, herbal notes, anise and black tea are evident in the bouquet. On the palate the wine is silky with well-structured body and an extended finish.
Burrowing Owl Estate Winery 2016 Meritage $50
Meritage is the North American answer to the much revered blends from the Bordeaux region of France. Using classic Bordeaux varieties, wineries are capable of creating a signature wine unique to them. This one is no exception. It's big and bold with an intense bouquet of blackberry, dark plum, blueberry, dried fruit, with meaty and savoury notes, accented by vanilla bean, black tea and dark chocolate. There are lovely subtleties to it too, such as hints of violet, orange zest and mint. A great cellar dweller but you certainly won't be disappointed if you open it now.
Church and State Wines 2016 Coyote Bowl Series Petit Verdot $80
Petit Verdot isn't often done as a single variety as it tends to end up in Meritage/Bordeaux blends. But when it is called to stand on its own and deftly made, there is nothing quite like it. This effort has all the hallmarks of a beautifully made PV with concentrated black fruit, savoury spice, cedar box, coffee and black pepper. Well structured for aging, aerating will make this wine an approachable addition to your dinner table.
Desert Hills Estate Winery 2016 Syrah $37
These Syrah vines, established in 1996, are among the oldest of this variety planted in the valley and the proprietors took a huge leap of faith in doing so. Their gamble paid off. The wine shows tons of complexity with deep, dark berry fruit, black tea, vanilla and smoky, meaty, savoury components.
Dirty Laundry Vineyard 2018 Pinot Noir $29
The elegance of this Pinot Noir is apparent from the first pour to the last sip. It has a nice silky texture with cranberry, black cherry, toast, vanilla and floral notes. Nice complexity on the palate with forward fruit and soft tannins. The finish is nicely extended. The grapes are grown in the winery's Summerland vineyard and the wine is barrel aged in French oak for 18 months. 
House of Rose Winery 2012 Vintage Okanagan Tawny $26
The winner of Best in Class and double gold at 2017 Best of BC Wine Awards, this Port-style wine will smoothly end an evening meal. Aromas of chocolate, black cherry, vanilla bean, dried fig, dark plum and coffee, it is rich and luscious on the palate. The wine includes de Chaunac grapes, a French-American hybrid, that only House of Rose continues to grow in the valley. 
Howling Bluff Estate Winery 2018 Cronie Family Vineyard Pinot Noir $35
The grapes grown for this wine is in a vineyard called the Century Block and consists of western facing exposure and a soil combination of rock, sand and gravel. This terroir lends itself to a complex wine with raspberry, plum, black cherry, cocoa, vanilla, white pepper and a touch of savoury spice. It is silky and smooth and oh, so elegant.
Indigenous World Winery 2017 Single Vineyard Chardonnay $30
For those who prefer Chardonnays with a little barrel-aging try this version from Indigenous. Grapes grown in Cawston are 60% fermented and aged in new French oak. When combined with the other 40% stainless steel fermented fruit, you get a wine that has all the luscious buttery, vanilla, tropical fruit character, balanced by zesty, citrusy components.
Kalala Organic Estate Winery 2014 Dostana Malbec $45
Malbec is increasingly becoming a standalone grape in the Okanagan and why not? Its deep tones, richness and aromatics appeal to big, bold red lovers. This version has loads of blackberry, black cherry, dark plum, cocoa, violets, leather, savoury spice and black tea. It can sit in a cellar for a few years, but is very approachable now.
Kismet Estate Winery 2016 Cabernet Sauvignon Reserve $60
The Okanagan's warm summers lend themselves to producing some big, bold reds not originally thought to thrive here. But this Cab Sauv proves that local vintners can do it right. Deep, inky colour in the glass with lifted aromas of cassis, black cherry, blueberry, dark plum, chocolate, black tea, tobacco, savoury spice, toast and some meaty notes. The palate is big and concentrated with a long, juicy finish.
Lake Breeze Vineyards 2015 Berg Pinotage $35
Pinotage is a South African crossing of Pinot Noir and Cinsaut and is fairly uncommon in the Okanagan where only a handful of producers grow and make it. It has a deeper purple hue compared to Pinot and tends to be spicier and more herbal. This one is no exception. It offers up raspberry, black cherry, black plum fruit character accented by licorice, hoisin, smoke, pepper and minty, herbal notes. Recommended cellaring is two to three years.
Lang Vineyards 2019 Viognier $28
This version of Viognier is a full-bodied offering exploding with tropical fruit flavours of pineapple, banana and mango, with orange marmalade, apricot, honeysuckle, pear and nutmeg accents. It is rich and round, slightly off-dry and a touch creamy on the palate. Lots going on in the glass from sniff to final sip.
Moon Curser Vineyards 2018 Carménère $40
Carménère is a Bordeaux variety that is probably best known among Chilean wine enthusiasts. There are few varietal Carménère producers in the Valley and this version has many consumers intrigued. Medium in body but rich in colour, it offers up black cherry, dark plum, raspberry, chocolate, black tea, anise, black peppercorn, herbal and earthy notes. Smooth on the palate with an extended finish.
O'Rourke's Peak Cellars 2018 Pinot Noir $32
Pinot Noir enthusiasts won't be disappointed with this offering which shows an impressive amount of elegance and complexity. Big, juicy fruit aromas of cherries, currants, raspberries and wild strawberries, accented by chocolate, orange zest, baking spice, savoury spice, mint and earth. The mouthfeel is bright, but soft and smooth with supple tannins.
Summerhill Pyramid Winery 2012 Cipes Blanc de Blanc $40
A well-aged bubble is a unique treat for any wine enthusiast and one at this price is rare. A fine mist of bubbles greets you in the glass and the bouquet offers up citrus, brioche, green apple, toasted nuts and lemon zest. Lots of zesty lemon, apple, toast and mineral on the palate. The special occasion when you drink this bubble will only have to be the day you choose to open it.