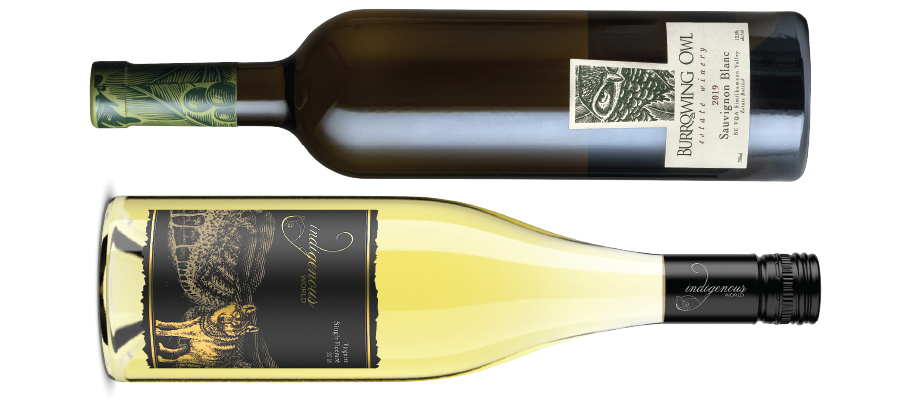 50th Parallel Estate Winery 2019 Riesling $23.50
Fans of drier Rieslings will enjoy this release from Lake Country. The winemaker opted for elongated skin contact in the press and ferment it very cold for an extended period to bring out minerality and preserve acidic freshness. There's bright fruit flavours of orange zest, green apple, white peach and lime. A hint of residual sweetness balances the high acid so that it's not too austere.
Burrowing Owl Estate Winery 2019 Sauvignon Blanc $28
Classic, well-grown, well-made Sauv Blanc should be zesty and savoury, fruity and herbaceous and this one does not disappoint. Intense aromas and flavours of gooseberry, white peach, grapefruit, lime, honey, herbs, flint and mineral. A wee kiss of oak fleshes out the acidity and gives the wine a bit of roundness.
Church and State Wines 2018 Lost Inhibitions Red $22
This fun series is sure to be a crowd pleaser. Each bottle bears one of more than 200 labels bearing cheeky expressions that are sure to get the room buzzing. But make no mistake, this wine is no lightweight. In an affordable package, the winery manages to pack a lot of punch. Look for intense dark red fruit flavours, some spice, vanilla, chocolate and nice velvety mouthfeel. This is a for-right-now-wine, not a long term relationship, but more reds that are best consumed young are what many wine consumers are seeking.
Desert Hills Estate Winery 2019 Gamay Noir $23
Gamay Noir is often overlooked and overshadowed by its more famous cousin, Pinot. But when grown well and handled deftly, the result can be a gorgeous wine worthy of high praise and here is a grand example. While typically lighter in body, this Gamay has a surprising amount of richness courtesy of having grown in the Osoyoos area, where sunlight and heat are generous. There are deep black cherry, raspberry, gamey, earthy, savoury characteristics and an extended finish.
Dirty Laundry Vineyard 2018 Dangerous Liaison $24
The sassy name is appropriate for this wine which has a rich, enticing body and character. A blend of Merlot and Malbec, it is crowd-pleasing wine with deep raspberry, black cherry and plum fruit characteristics, accented by chocolate, sweet tea and vanilla. The wine was 100% fermented in stainless so this wine is fresh, bright and ready to drink.
House of Rose Winery 2018 Grapes with Benefits $20
Wine enthusiasts with a sweet tooth will appreciate this 'secret' blend of white grapes that includes a splash of ice-wine. The result is a slightly sweet wine that is both floral and fruity. There is tropical fruit, orange zest, vanilla, coconut, and honeysuckle on the nose and palate. A nice hit of acidity gives the wine balance. Serve well-chilled as an aperitif with a charcuterie platter.
Howling Bluff Estate Winery 2019 Sauvignon Blanc Sémillon $22
The winery never disappoints with the white Meritage-style blend that has become its signature over the years. The wine has a bright aromatic nose of honeydew, green apple, pineapple, lemon peel and a touch of grass. It's both crisp and fresh but has some smoothness as well. Consider this an elegant patio or hot tub sipper.
Indigenous World Winery 2018 Single Vineyard Viognier $22
Viognier is finding itself a strong following in the Okanagan so it's always a pleasure to discover new favourites. This winery uses grapes from the Similkameen Vallery, harvesting them late in the season when the fruit is at its sweetest. The result is a rather rich, full-bodied wine with luscious ripe peach, pear, tropical fruit and honey. The acids are soft and the palate is slightly round and oily from having gone through partial malolactic fermentation.
Kalala Organic Estate Winery 2018 Rosé $22
Rosé is making a major come back in the Okanagan and Kalala offers an organic one. Bearing a lovely blush hue, it offers all the fresh, elegant aromas of wild strawberry, raspberry, watermelon, orange zest, and honeysuckle. Slightly offdry on the palate there are fresh strawberry, tangerine, watermelon, honeyed flavours and zesty citrusy finish. Serve well-chilled on the deck.
Kismet Estate Winery 2017 Secret Red $21
Merlot is the predominant grape in this affordable blend that is sure to be a crowd pleaser. There's plenty of deep red fruits on the nose such as black cherry and raspberry, accented by vanilla, chocolate, and white pepper. Aged in a combination of French and American oak, the tannins are integrated and approachable for drinking now.
Lake Breeze Vineyards 2018 Alize Roussanne $25
Many local wine enthusiasts may be unfamiliar with this variety which hails from the Northern Rhône region of France, but it's an up and comer in Okanagan vineyards and worth exploring. This version shows a lot of complexity with peach, apricot, pear, lemon zest, honey and herbal tea. The mouthfeel is rich and slightly oily with a citrusy finish.
Lang Vineyards 2017 Orange Riesling $15
This unusual Orange Riesling is made in the honour of the winery's late vineyard manager, Hans Lang. This is Riesling made in a drier style that also has a bit of an orange or golden hue. The nose is very pretty, with honeysuckle, orange zest, apricot, peach and sweet almonds in the bouquet. The dry palate defies the sweet nose, showing off zesty apple, peach and lime. Definitely worth a try at this price.
Moon Curser Vineyards 2019 Dolcetto $26
Once again, a rare offering from this winery with this red Italian grape varietal. Dolcetto is traditionally used to make wines without the use of oak and the producer is true to this custom. The result is an easy drinking sipper that bears a deep hue in colour and smooth luscious palate. Blackberry, plum, licorice, chocolate and baking spices are the predominant characteristic.
O'Rourke's Peak Cellars 2019 Single Block Rosé $26
This upper tier offering of rosé bears one of the prettiest hues among this style of wine in the Okanagan. Made from 100% Pinot Noir from a highly sought out clone, the aromas crackle with wild strawberries, honeysuckle, watermelon, orange zest and a touch of spice. Mouthwatering acidity and fresh citrusy flavours spark on the palate.
Summerhill Pyramid Winery 2019 Organic Pinot Gris $20
Great value in the organic Pinot Gris. Fresh and fruit forward, it serves up lime, pear, apple, apricot, orchard blossoms and honey in the bouquet. Zesty palate full of fresh golden fruit flavours, lemon and a heavy dose of minerality.